Jewish Aggie of the Week Presents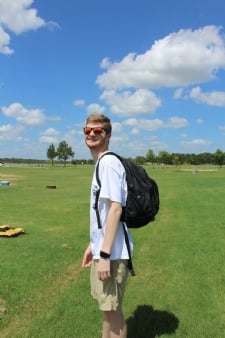 Meet Joshua Daniel Hirsh from El Paso, Texas.
Josh has an older brother, Michael age 24, who is in law school at Texas Tech. Josh also has an older sister, Alexus age 26, who is a practicing attorney in Phoenix, Arizona. She is recently married to an Attorney.
"If I had one super power it would be super intelligence. Super intelligence would allow me to artificially create the other super powers for myself. Why limit myself to one when I have the ability to create them all for myself. Furthermore, knowledge is power, knowledge is wit, and why not give myself the opportunity to tell better jokes."
Josh is the former President of Sigma Alpha Mu - aka The "Sammys" and also the President of the Chabad Jewish Student Board. Josh has been active in Chabad since his freshman year. Josh is also a fellow of the Sinai Scholar Society.
Plans after Graduation?: "Ever since I was in the second grade I have dreamt of becoming a surgeon. Ideally I will attend medical school immediately after graduation. If I am unable to attend medical school, I am planning on working towards a master's degree in microbiology, followed by another attempt at getting into medical school."
We wish Josh much success as he graduates Texas A&M University this December.