My name is Jackie Rosenthal and I'm a sophomore Business Honors and Management Information Systems Student from Houston, Texas. I just got back from my winter Birthright Trip, led by our own wonderful Rabbi Yossi. I'm so thankful to have done Birthright now as opposed to later because I'm pretty sure it will be the start of yearly trips to Israel for me.
I didn't want to leave Israel. Ten days in such a country was way too short. Praying at the Western Wall was touching beyond words. Relaxing in the Dead Sea was an incredible experience, let alone a beautiful sight. Masada was an enjoyable hike and learning opportunity. The markets and bargaining for souvenirs were a blast. The food was AMAZING (even if I am the pickiest eater in the world). The soldiers were so fun to hang out with and learn from. I felt so safe and at home in Israel.
One of the best things about my Birthright trip was Yossi's words. Whether he was leading the Modeh Ani on the bus, sharing stories with us, answering our questions about Judaism in a Q&A session, or talking to me about the history of sites while walking through the cities, I was always learning so much and fulfilling one of the reasons I wanted to join the trip. Before the trip's start, I was worried we were going to be expected to know a decent amount about Jewish customs, of Israel's history, and even a little bit of Hebrew. I didn't want to be left in the dust at "why do we wash our hands in a certain manner before Shabbat dinner" when the whole group had moved on to another topic. However, I didn't need to be worried. We were Jews of
all different backgrounds on the trip and everything we needed and wanted to know was explained to us with ease.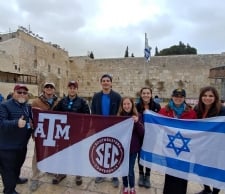 We also always had the opportunity to ask questions, which I know we all appreciated.
Go on Birthright with Rabbi Yossi soon, join the #HowdyBus family, and then start planning your following trips to Israel. It's an incredible place; you have to see it for yourself.
To join the Aggie Birthright Summer 2018 trip on May 22 visit MayanotIsrael.com