Jewish Aggie of the Week Presents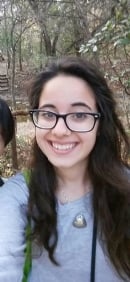 What is your name?
Stephanie Tsyss
Where are you from?
Austin, Texas
Where did you go to high school?
Anderson High School
Why did you choose Texas A&M?
I enjoyed the friendly people, the great engineering program, and the awesome Jewish community.
What was your major and why did you decide to pursue such a degree?
Biological and Agricultural Engineering. Texas A&M has one of the best programs in the country. I get to use engineering principles to help people in a very practical and tangible way- clean water, clean energy sources, better food processing and storage.
What is your favorite book?
Harry Potter!
What do you look forward to when coming to Chabad?
Catching up with friends, eating yummy kosher food, learning about Judaism, seeing Rabbi Yossi and Manya and the kids
What do you love about Jewish life on campus?
I love how friendly and supportive everyone has been. I have met some of my best friends at Chabad.
Why do you think it is important to be involved in Jewish life?
It's important to give to yourself by learning about your own identity, which only empower you to be a better and more well rounded individual
If you had a dream list for Chabad, what would be on it?
The new kitchen, new addition, complete with study rooms and a mikvah and an apartment for Shlomie.
Do you plan on going to graduate school at A&M?
Currently that is not the plan.
Do you have any siblings?
Two sisters, I'm in the middle
What is your favorite Jewish food?
Manya's chicken soup
What is your favorite food?
Burgers or any grilled kosher meat
What is your favorite Chabad experience until now?
Kosher cooking club with my friends
Have you ever traveled outside of the United States?
I've been to canada, mexico, and to Israel. My favorite was definitely israel.
Have you ever been to Israel? If so, what was the most inspirational experience you had?
Yes I've been there twice. So many moving experiences. Going to the Kotel on Shavuot with thousands of other Jewish people is at the top.
If you could go anywhere in the world where would you go?
Anywhere as long as I'm with people I care about.
What is your favorite vacation spot?
I like hiking and swimming in the Texas Hill Country
How do you enjoy spending your free time?
I enjoy cooking, helping out at chabad, photography, driving, hiking, and playing with animals.
What is at the top of your bucket list?
Visit the national parks in the American and Canadian rockies
If you could start university again what would you do differently?
If I changed anything I doubt I would be the same person I am today.
Do you have any animals? What is their best trick?
My family in austin has 2 cats and 1 chicken. The chicken is good at laying eggs. The cats are good at chasing the red laser and catching mice.
Did you prefer living on campus or off campus? What would you recommend to freshmen?
I have only lived off campus. I would recommend living off campus close to where most of your classes are.
If you could have one wish for anything in the world what would it be?
I wish everyone could have access to clean water and a steady food source and the world has an endless supply of sustainable energy.
Do you have a message for future A&M students?
Focus on school, study hard, learn about yourself and challenge yourself.
What has been your most enjoyable class?
I took Tai Chi for my Kinesiology class, it was something new and different.
If you were able to have one superpower what would it be?
It would be cool to somehow travel faster from one place to another.
What would enhance Jewish life on campus?
Friends bringing friends to Jewish events.
How did you get involved with Chabad?
I met the Lazaroff family when I was in High School and I visited college station with my family when Chabad received a new torah and had a big party to celebrate. I fell in love with Chabad and College Station that day.
Do you have plans for after graduation?
I need to find a job and I would really like to travel more.